Search Engine Logos - Mother's Day Edition
Today is Mother's Day, and like for many other special occasions, a few of the search engines have modified their logos or designs to celebrate the day dedicated to all hardworking and loving mothers out there. Let's look at some of these wonderful designs.
Google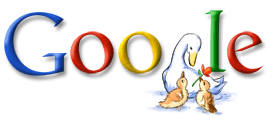 Interestingly, I only saw the Google Mother's Day logo on google.ca but not the google.com. Maybe our American neighbours don't celebrate Mother's Day?
On the contrary, I did not see the Yahoo! Mother's Day logo on their Canadian site. Once again, Yahoo! brought us their wonderful flash logo with some cute animations of a mother duck and some ducklings.
MSN/Live
There was no Mother's Day logo on live.com, but there was a lame Mother's day logo on the msn site.
Ask
Ask changed the background of their homepage to reflect this special occasion.
AOL
And on AOL, rather than showing a Mother's Day logo, it had a Spring Shopping logo on it's .com homepage.
Dogpile
Dogpile customized its homepage and the dog with some animations. Click to see the dogpile animation here.
Here are a couple of the Mother's Day logos from 2007:
And more Google Mother's Day logos in the past:
2006
2005
2004
2003
2002
2001
2000
As you could see, the 2000 and 2001 Google Mother's Day logos were the same. Check out the official Google logo museum for all the Google logos since 1999.
Personally, the Yahoo! 2008 Mother's Day logo is my favourite, which one do you like the most?
Oh, and at last, Happy Mother's Day to all the wonderful moms out there in the search engine marketing industry!